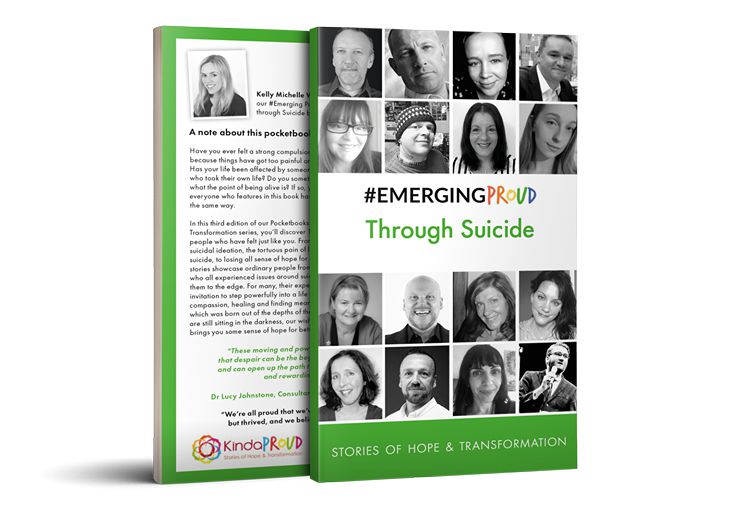 Recently I was invited to contribute to this amazing little pocket book ' Emerging Proud Through Suicide' to help people see that we can emerge through suicide and that depression and life challenges can hold a great gift as we move through them.
In my Podcast 'Can The Pain Of Depression Be A Gift' I talk more about this topic. I feel it's very important to look at mental health issues in a new way, as a vehicle for transformation and hope. This is where #EmergingProud comes in. They are a fantastic support and resource for anyone wanting to find the gift in the pain.
A short extract from their press release:
"#EmergingProud Through Suicide, the latest book in the KindaProud Pocketbooks of Hope and Transformation series, aims to offer an alternative perspective on this sensitive issue by telling stories of hope from individuals who have been close to taking their lives describe what helped them to not only survive, but thrive.. Our society is becoming more open to normalising the struggles of mental health, and sharing positive stories is considered an essential part of the recovery and healing process as it helps people to feel less isolated.
Everyone in #EmergingProud Through Suicide has previously hit an all time low in their life but found inner strength to emerge stronger and more determined to live a meaningful life than ever before. The transformational and true life stories in this book provide the reader with positivity and hope, as each individual recounts their personal story, sharing the valuable messages they have learnt along the way. These stories touch on how important it is to seek help and guidance at such a vulnerable point in life, getting on the path of mindfulness and learning to truly connect with oneself and others."
The founder of Emerging Proud, Katie Mottram offers readers at Kelly Martin Speaks the chance to win one copy of this beautifully empowering book.
If you don't win this time, please do purchase a copy for anyone you feel may need it right now and check out their other books HERE
Proceeds from books sales go to distribute FREE books to those in need
ENTER VIA GLEAM below (OPEN WORLDWIDE!)
Emerging Proud Through Suicide Book Competition
Disclaimer: I received one copy of the book Emerging Proud Through Suicide to give away to readers. All thoughts contained in this post are my own.
Visit our latest posts below