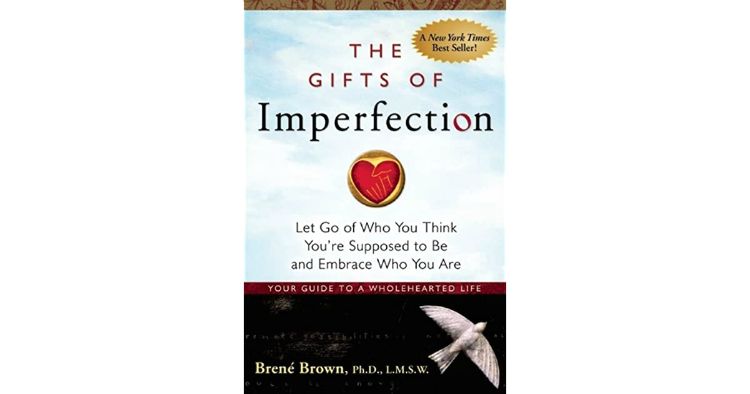 Title: The Gifts Of Imperfection
Let Go Of Who You Think You're Supposed to Be and Embrace Who You Are.

Author: Brene Brown
Published: 2010
Publisher: Hazelden
Pages: 137
UK Price: £10.95
Purchase Here The Gifts of Imperfection: Let Go of Who You Think You're Supposed to Be and Embrace Who You Are
USA : $8.47 at time of posting (Purchase
HERE
)
Genre: Self Help/ Emotional Health
This book was on my reading bucket list.
Brene brings a different slant to the self-help arena and brings us home to our humanity, which I much prefer in self-help books. As a writer and research professor she likes to look into the human condition and why people do what they do. This book brings together her research in clear and concise chapters under the headings of Guideposts.
These include:
Guidepost #1 Cultivating Authenticity – Letting Go Of What People Think.
Guidepost #2 Cultivating Self-Compassion – Letting Go Of Perfectionism.
Guidepost #3 Cultivating a Resilient Spirit – Letting Go Of Numbing Powerlessness
Guidepost #4 Cultivating Gratitude and Joy – Letting Go Of Scarcity and Fear of the Dark.
Guidepost #5 Cultivating Intuition and Trusting Faith – Letting Go Of The Need For Certainty.
Guidepost #6 Cultivating Creativity – Letting Go Of Comparison.
Guidepost #7 Cultivating Play and Rest – Letting Go of Exhaustion as a Status Symbol and Productivity as Self-Worth.
Guidepost #8 Cultivating Calm and Stillness – Letting Go Of Anxiety as a Lifestyle.
Guidepost #9 Cultivating Meaningful Work – Letting Go Of Self-Doubt and "Supposed To"
Guidepost #10 Cultivating Laughter, Song and Dance – Letting Go Of Being Cool and Always In Control.
The introduction really whetted my appetite for this book, and it holds a lot of promise. I found the topic of shame helped me understand my own shame and to get a better understanding of how to release it.Based on her extensive research into shame and guilt as a research professor at the University of Houston, Brene has written an accessible book, especially for those who need an introduction to these aspects of human behaviour and how to overcome them.
The first 3 chapters I enjoyed, but after that I found the constant referring to her research and her way of using the DIG analogy (get Deliberate, get Inspired, and get Going) over and over again irritating. I know a lot of people seem to have got a lot out of this book, I just found it did not DIG deep enough to help embrace myself with compassion. She referred lightly to mindfulness, which in my experience is an excellent way of embracing through compassion.
What would have been great was to see Brene share her own vulnerability which I didn't feel she did. And as the book is about this topic it would have warmed me more to the writing.
Summary
Overall it has potential, some elements of interest and support, but it needed to be fuller and more in-depth than it was written. It would make a good beginners' guide to self compassion but would for me, be only classed as a starting point.
POSITIVE
Clearly laid out, some good thoughts on the topic of shame. Some relevant ways of looking at oneself through the eyes of compassion. A good beginners' guide.
NEGATIVE
Needs more depth. Brene would have engaged the reader more with fewer references to her research and more to vulnerability from her own life experiences. Quite basic – more is needed for self compassion.
WIN – WIN – WIN
If you would like the opportunity to win a copy of this book,
please enter via the GLEAM APP below (UK only).
Good Luck!
Win competitions at ThePrizeFinder.com
LATEST POSTS