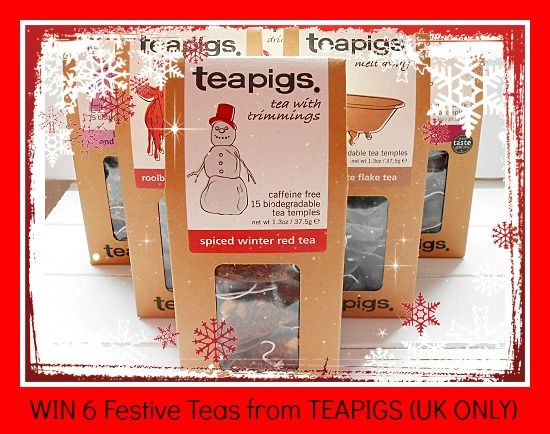 Teapigs tea is especially pure, I have not tasted a finer tea!
Anyone who knows me, knows I am a big herbal tea fan. I drink fennel, chamomile, ginger, jasmine and more. Most people I know do not drink as much as I do, and some even think herbal tea is yuck! Well I think they just simply have not given it a chance or tried decent herbal tea. In my herbal tea journey, I have come across some yucky herbal teas, often cheaper ones sold in supermarkets, but to have a good quality herbal tea is a thing of beauty. So when I came across Teapigs in my local farm shop a few years back and wondered what the difference was between this tea and my normal tea, I investigated and discovered a lot!
Making The Shift From English Breakfast To Herbal Tea
Many years ago I was a black tea fan. That was all I drank. Tea in the morning, tea at noon, tea in the evening, tea during the day… well you get my drift. I had it with milk and with lots of sugar. Then one day I was having a cup of tea and suddenly felt nauseous, and that was it, my normal tea drinking days were over. I made a switch to coffee and then over the past few years to herbal tea.
Now I think the mistake people make when making the switch to herbal tea is that they expect it to taste or be like normal tea. Some wonder about putting milk in, and while some you can put milk in, most you do not. You have to change your tea-drinking mindset and switch it from a sugary high to a 'aah this is soothing… relaxing… warming…and calming'.
Tea As A Meditation – Tea Can Be A Sacred Experience.
Some of you may have watched the movie Karate Kid 2 where Mr Miyagi and Daniel go to Japan. Daniel gets to experience a tea ceremony with the woman he is falling in love with. In the west we use it as a beverage, something warm to drink but it can be so much more.
A short while ago I read a book by a well known Buddhist teacher called Thich Nhat Hanh who advocates mindfulness as a practice for well-being and one of the things you can do, to be present, to enjoy the moment, is to drink tea. But with mindfulness you do not just drink tea you feel the tea, feel the cup, smell the scent of the tea, you are with the tea – mindfully. You are not drinking tea and thinking about what is for dinner, or drinking tea and organising the next activity or worrying about something, you are using tea to bring you back into stillness which makes tea drinking a purely sacred experience. Drinking tea alone or with friends can be a deepening practice of present moment awareness.
Thich says:

Tea meditation is a time to be with the Sangha in a joyful and serene atmosphere. Just to enjoy our tea together is enough. It is like a "good news" occasion, when we share our joy and happiness in being together.
At times, when we are drinking tea with a friend, we are not aware of the tea or even of our friend sitting there. Practicing tea meditation is to be truly present with our tea and our friends. We recognize that we can dwell happily in the present moment despite all of our sorrows and worries. We sit there relaxed without having to say anything. If we like, we may also share a song, a story or a dance.
~ Plum Village Mindfulness Practice – Tea Meditation
In Japan the tea ceremony is called Chanoyu, Sado or Ocha. It is like a beautiful harmony of dance through the ritual or preparing and serving of Japanese green tea (Matcha). With the tea ceremony, it is not about the tea but more about the process, more about preparing tea from one's heart. Watch below a beautiful video from the movie Karate Kid 2 of the Japanese tea ceremony.
Teapigs is a company which prides itself on good quality tea, no cheap shoddy tea, no powder at the bottom of the teabag – only high quality, whole leaf tea. Because of this they are able to supply both loose tea and tea in tea temples (those little pyramids that are utterly fun and pretty to put into a tea cup).
Teapigs love tea but they are not tea snobs.
ETHICAL
Teapigs are ethical and through the Teapigs ethical scheme they are currently working with the Noel Orphanage in Rwanda. Through raising money through donations and events Teapigs is raising the living standards of the children and much more.
Green Credentials
Teapigs is working with the tea estates from which they source, to put the little green frog on every pack they sell. At the moment their English breakfast (everyday brew) blend has Rainforest Alliance certification.
The packaging on their tea is fully recyclable and the cardboard used to make the packaging is FSC certified.
They also print on sustainable board, but the last flashy logo tells you that the ink they use to make their packs of tea is not only pretty but is vegetable-based.
Teapigs' tea temples are made from biodegradable corn starch. The material was developed in Japan and has the green "pla" mark which is an endorsement by the Japanese bioplastics association.
So it is with great pleasure I get to introduce my journey through Teapigs tea in this review, and what better way to start than with a Festive Tea first.
Spiced Winter Red Tea (Caffeine Free)
(NOT just for Christmas – beautifully warming for Winter)
Ingredients: rooibos with orange, cloves & cinnamon – Christmas in a cup!
So warming, this Teapigs tea warmed up my cold body on a Winter Day
I often get so cold at my computer and my flat is not the warmest place on earth. I often sit with a hot water bottle beneath my feet and wrapped in layers in winter so warm drinks and copious amounts of tea are a real necessity. I was pleased to experience this festive tea on a particularly cold November day and was very surprised to find thatbthe spices in this tea really warmed me up on the inside. So now I know what I will be drinking on cold days throughout the Winter.
This tea is a delicious, no milk required, perfect amount of spice, tea, with a beautiful fragrance and colour. With a base of rooibos not only is this tea warming but is full of antioxidants. Rooibos has a high mineral content, is said to improve circulation, relieve stomach upsets and much more. This is a keeper for me and would make a great gift for someone.
CHAI TEA – A Taste Of India
Ingredients: black tea, cinamon, ginger, clove, cassia, natural flavour
I had never had Chai Tea before now I had heard all about it and it was yummy!
I had heard so much about Chai tea, chai lattes and the likes and as a herbal tea drinker who never adds milk, I was a bit unsure of whether I would like this tea, but I was pleasantly surprised. It was my first black tea since my experience some time ago but the combination of spices with milk and honey really made this a lovely alternative to my plain herbal tea. This is similar to the popular drink in India called Chai Masala which is a spicy milky drink.
This Chai Tea is "…a rich, malty Assam tea blended with cardamom pods, cinnamon, ginger and cassia…"


CHILLI CHAI
Ingredients: Black tea, cardamom, clove, ginger, vanilla, cinnamon, chilli
Now I anticipated not liking this because my mind was thinking 'chillis' – is it going to be super hot to drink, but nooo, it was really nice. It was a bit like the Spiced Winter tea and made me nice and toasty on the inside on a cold day. It was not as overpowering as I was anticipating which is great. I think you could have it stronger and more hot if you left the tea temple in for longer, but it was perfect for me at 3 minutes.
I loved the colours of this tea and being able to see all the great high quality ingredients in my latte glass. I am all for pretty tea temples and seeing the real tea inside them. Also this way I could see exactly the strength the tea was becoming for my taste.
Chocolate Flake Tea
Tea & Chocolate ? What's Not To Love?
Ingredients: Ceylon Black Tea (83%), chocolate (sugar, cocoa, emulsifier soya lecithin) (7%), cocoa beans (6%) natural flavouring (3%)
Now don't expect chocolate in tea to be of the same strength or depth as say a hot chocolate would taste, but this tea is rather scrummy, and sometimes hot chocolate is just far too sweet, so this gives a nice balance. It delivers a hint of chocolate in the tea at just the right level and when sweetened with a little honey it's a really nice flavour. I have to say I was a bit cheeky and did not add milk to this tea – I added double cream, so to me it was creamy and moreish. So far the inclusion of black tea has made me realise I perhaps had an aversion to poor quality tea and need other ingredients to enjoy black tea now.
Rooibos Creme Caramel
Ingredients: rooibos tea, caramel pieces (condensed skimmed milk, sugar, glucose syrup, butter, humectant: sorbitol, emulsifier: mono-and diglycerides of fatty acids) (5%), natural flavouring.
This is lovely. Really easy to drink. The Rooibos was a really gentle flavour after 3 minutes of steeping the tea temple and the caramel was just a hint, which to me was perfect. I was actually mesmerised watching this tea infuse into the hot water. Something I think will be a new addition to my regular warm drinks.
Liquorice And Mint
Ingredients: Liquorice root and peppermint
On Teapigs.co.uk there are over 170 reviews of people absolutely adoring this tea. Seriously loving this tea. And I imagine that if you like peppermint tea and your like liquorice, then you will simply love this. It leaves a liquorice aftertaste also and there are no added ingredients to mess with this flavour combination.
Me, I am not a mint tea lover, I am not a big liquorice fan either. So you can imagine this tea ranked not highly on my tea drinking choices, but I can see how many people do love it and go back again and again to buy it from Teapigs. To me, I guess it's like Marmite, you either love it or you hate it and I fall into the latter (sorry Teapigs!).
OVERALL OVERVIEW of TEAPIGS TEA
Teapigs offers not only high quality tea but none of the jargon from poserish tea companies. I love their advertising, their packaging and their keen desire to be ethical and support this beautiful planet. The teas I have tried are clearly beautiful teas and not only perfect for everyday drinking, but also amazing as gifts. I also peeked around their site at the other products they sell and they sell some wonderful tea sets and products I will look into for myself at a later date. Overall I give this tea 5 stars!
If you like what you see in this review, you can purchase a wide range of Teapigs Tea and accessories for tea making direct from the site Teapigs HERE. You can also keep up to date withTeapigs On Twitter HERE, Teapigs Facebook Page HERE and Teapigs Pinterest Page HERE.
WIN – WIN – WIN (Competition now closed!)
Teapigs have been generous and are offering 1 lucky winner the opportunity to win 6 festive teas as described in this review.
Start entering on the competition app below. You get extra entries for social sharing and much more.


I would like to say a great big thank you to Teapigs
for sponsoring this give-away and providing me with products to review.
MERRY CHRISTMAS & may 2014 be full of blessings for you!

GOOD LUCK!


*ENTERING* – Enter through the app below, click on the first option (comment on blog) and follow instructions. This will unlock further additional entries into the competition.
Question being answered in the comments is:
Visit TEAPIGS and tell me what tea do you feel will get you
through the hectic festive period and why?
Comment only eligible for entry into give-away
if entrant goes through the GLEAM app above.
*Post Disclaimer: I received 6 Teas from Teapigs based in UK for review. All opinions are my own.
Win competitions at ThePrizeFinder.com
Latest Posts